Last week, our CEO Allen Boone and CRO Melody Brown represented Simetric at MWC Las Vegas. The event, one of North America's largest and most influential conferences in the connectivity sphere, aligned us with the industry's foremost leaders, creators, and disruptors for thought-provoking discourse on the ecosystem's progression – present and future.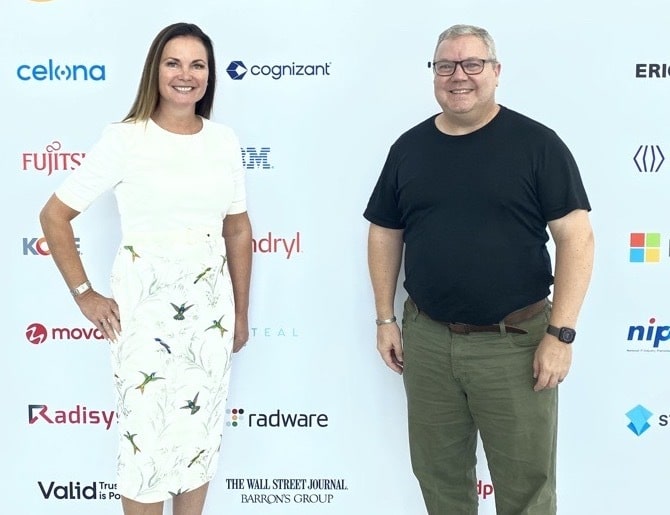 Unpacking MWC Las Vegas
MWC is GSMA's flagship North American event dedicated to uniting innovators from across the connectivity industry to showcase advancements and inspire breakthroughs. Returning to the event's original in-person format for the first time post-pandemic, MWC Las Vegas boasted a roster of more than 200 industry-leading speakers representing every key connectivity pillar:
Carriers
Equipment manufacturers
Mobile app developers
Solution providers
Content creators
…and more
Over 300 companies were in attendance, including groundbreaking startups and established Fortune 500s. During the three-day event, conversations focused on a central theme: Connectivity Unleashed.
Central to all conversations was the growing interdependence and unification of business processes and communication systems and their potential to further revolutionize how we store, share, manage, and analyze critical information. Drilling down to deeper themes, including the Internet of everything, MWC moored its messaging to the critical role strategic connectivity plays in the experience of owners, operators, and consumers alike.

Key Takeaways from MWC Las Vegas
Connectivity is Enjoying Renewed Value and Importance.
A slogan reiterated widely at MWC Las Vegas was "reconnect, reimagine, and reinvent." Excitement and energy pulsed through the entire event, especially on the expo floor where hundreds of companies at varying stages of development converged to share insights and innovations.
The entire experience highlighted the vitality of connectivity beyond the boundaries of geography and technology.
Given the focus on the renewed importance of connectivity, it was appropriate that the event marked the first time we could engage with many of our partners and customers in-person, transcending years of Zoom interactions to finally meet face-to-face. Other enterprises experienced similar encounters – sharing their first official handshakes with new contacts and enjoying long-awaited reunions with loyal clients and customers.
The value of (and emphasis on) connection was palpable. Integrated solutions, data transparency, and unified experiences are clearly the top priorities for executives at publicly traded companies, budding startups, and businesses in between.
The Edge is Expanding.
Though the range of connectivity firms attending MWC was varied, decisive patterns emerged in our conversations.
Enterprises and vendor partners we engaged in Las Vegas were clear: apprehension is high surrounding the sustainable management of accelerated edge adoption and maturing networks.
Concern for managing increasingly fragmented edge infrastructures is growing proportionate with the mounting complexity of those networks. As edge ecosystems continue to evolve, the burden of managing disparate networks is compounding – and will continue to exasperate enterprises given unrelenting edge expansion.
Edge expansion is inevitable. Accelerated adoption is welcomed.
But practical management of these changing networks is a looming business process challenge for connectivity companies of all sizes.
As complexity increases, simplicity is a naturally sought-after solution. Businesses are at an inflection point: identify a way to harness the transformational value of their edge technologies, or face potential hindrances, data overload, and unchecked expenditures due to an improperly managed ecosystem.
A single unified platform that manages expenses and synchronizes device controls to enable unmitigated coordination of a company's edge technologies is vital to sustainable connectivity expansion.
Act on Innovation with Simetric
Thankfully, enterprises seeking a cross-carrier single-platform IoT and edge connected device solution have a ready-made solution for unified management at the edge. The Simetric SaaS platform is answering the practical dilemmas left in the wake of compounded edge concerns for hundreds of global companies – and it's saving them millions along the way.
Our advanced, configurable, single-pane-of-glass solution is the key to safeguarding your IoT and edge connected investments and accelerating scalable improvements to your connectivity infrastructure.
As connectivity continues to morph, our ambitious roadmap enhances your capabilities – instead of exacerbating your headaches.