The Internet of Things (IoT) is as complicated as it is alluring for many businesses today. And yet, it doesn't have to be. Your organization can quickly and easily realize the full potential of your investment in the IoT if you have an intelligent solution in place to enable business process optimization. That's what we explore in our latest whitepaper, where you'll find out how Simetric helps you Unlock the Power of IoT with Business Process Optimization.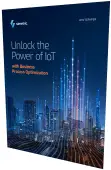 Automation versus optimization
The whitepaper outlines the consequences of focusing on mere automation and the opportunities presented when you instead aim for optimization. While automation and optimization often get used interchangeably, the former is a tactic, that maybe saves some time and reduces a few redundancies, while the latter is a strategy that delivers true business value.
For starters, business process optimization promises to improve the customer experience, eliminate human error, reveal new business opportunity, and save your organization money.We take a look at cases where Simetric customers saved hundreds of thousands –even millions –of dollars in operating costs. It also has the added bonus of empowering your employees to do their jobs faster with a higher level of accuracy. Not to mention, with their sanity intact.
Putting solutions in place to transform your business
Are you missing out on opportunity to drive your business forward, simply because you don't have a unified view of your IoT data? Are you hemorrhaging organizational resources because your business processes aren't optimized?
Learn how Simetric enables your business to centrally manage all of your connectivity needs, while simultaneously helping you minimize risk, save time, and drive out organizational waste.