I became an investor in Simetric in 2019 because I saw the market potential of the innovative software and the opportunity for IoT companies to thrive with this technology.  Earlier this year I started working with the leadership team on a project and saw first hand the real impact Simetric has, not only on businesses, but on people's lives. That statement may sound like a stretch or overly altruistic, but it is why I joined the company and am here today. When COVID hit, I felt like I needed to put some positive energy into the universe. When I saw how Simetric helps businesses not just save money, but literally stay in business and save jobs, I realized that joining this team was a way to do just that. I leaned in to Simetric so I could help more companies and people, and that's what makes me super excited and motivated to show up every day.
When I saw how quickly this technology could drive out waste and optimize budgets across an organization, I realized the global impact on companies and their employees could be life changing. I am still impressed by the immediate and ongoing savings I see in organizations that deploy a Simetric solution. The dashboard gives a line of sight to where we can drive dollars out of the bottom line and positively improve CAPEX and OPEX. Data insight on this scale is significant and meaningful to a business' bottom line. A single dashboard view of the entire IoT ecosystem allows a business to quickly identify inefficiencies that can be fixed, sometimes within the hour, and on an ongoing basis.
Take a look at this example of a customer's dashboard. That savings number along with the ability to act on information to get ahead of unanticipated expenses is real! Seriously!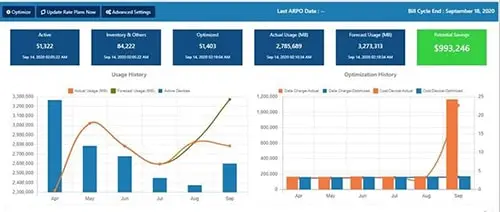 Being operator agnostic is another big benefit for our customers. With millions of connected devices across global operators, it's impossible to achieve end-to-end visibility that is needed to make any meaningful decisions about an IoT ecosystem. There are connectivity managers out there struggling to manage multiple carriers, rate plans and SIMs, and there is way too much data to do it effectively. It's demoralizing, not to mention overwhelming. But, when that information can be harnessed into a single pane and interpreted efficiently, suddenly we've opened a new world of opportunity for true business process automation that can transform a business. The questions involved in managing the IoT ecosystem suddenly become "How can we grow?" and "Where should we expand?," rather than "How will we manage all this data?"
These days, it seems like the world is moving faster every minute. I see plenty of companies and people struggling to keep up. To steer a business in this climate, decisions need to be made based on real-time insights. Simetric does just that. What makes me most excited is the impacts I am seeing on our customers. The tools we offer don't just move a company from automation to business process automation, they save jobs and help people achieve their goals and grow their companies faster than they thought possible. To me, this is the real payoff of the technology and I hope to be able to help you reach these benefits!