How to Solve the Most Common Edge Mistakes
The edge is the future of business. While common hindrances threaten to slow or thwart the prevalence of an edge takeover, the determinant of a successful edge evolution lies in the technologies applied during the transformation. 
I have been aiding enterprises to achieve an Edge First strategy that utilizes their existing network of software and hardware to amplify results without compromising prior investment or infrastructure. What is leading edge technology into its foretold place as a cloud computing replacement is a conglomerate of existing and adaptive technologies that fit together.
4 Technologies Advancing the Edge Takeover
IoT-intelligent edge devices are already widely in place supporting every industry.  However, an estimated 3 billion devices – growing to 7 billion by 2026 – will have to be upgraded to securely run connectivity and compute at the edge due to CDMA retirement and 5G adoption.  
Software-defined networking (SD-WAN) is as fragmented as the carriers' CMPs.  Albeit, most appreciate the value this technology enables to connect edge devices to each other and to the cloud, seldom do enterprises account for them as edge devices in their own right. Despite this fact, the edge routers where policy and orchestration originate are often mistakenly relegated to cloud connectivity and nothing further.  Many organizations fail to account for the actual connectivity costs on these devices from the carriers.  
5G will be the first time computing and connectivity are unified on individual devices.  The first phase of IoT was automation. This next phase will be specifically about business process automation at the edge, as we will have more configuration control of the devices.
Digital twins are critical to unifying the physical devices, cloud analytic operations, and edge computing activities together into a holistic representation that can be analyzed and metered. Digital twins bring the devices and their applications into the same configuration for greater control. However, digital twins tend to ignore legacy devices where they aren't deployed via SDKs. This creates an expensive, fragmented device landscape with diminished AI and analytic values.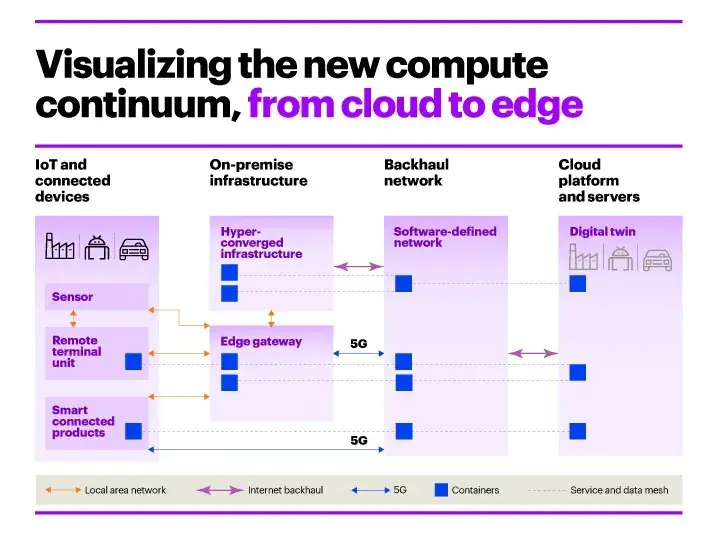 Intelligently Apply Edge to Your Enterprise
The edge is multiple technologies coming together that will evolve every business. Intelligent edge devices cannot operate in a silo from other digital workflows for effective business evolution. 
Simetric is an IoT management platform providing cloud-based financial optimizations, enhanced device management, and faster market engagement through real-time data visibility.  Unifying workflow control across these technologies enables greater customization, business process automation, and operational efficiencies for any enterprise. 
Valuable CAPEX and OPEX savings are efficiently and sustainably captured within Simetric to support enterprise digitization efforts. Simetric delivers the actionable forward guidance every business requires for sustainable evolution into an Edge-First enterprise.